Burka Avenger: a new superhero?
Young people are at the heart of the CelebYouth research, whose lives are surrounded by various cultural influences such as celebrities, music, video games and superheroes. In this post the project's administrator Bazgha Sultana, explores a new female superhero 'The Burka Avenger'. Superheroes are an iconic part of our culture and have a significant impact on children, young people, indeed on all of us. Many such as Iron Man and Batman featured in the young people's celebrity talk, suggesting that these superheroes are extremely powerful and fascinating and give inspiration, protection and hope.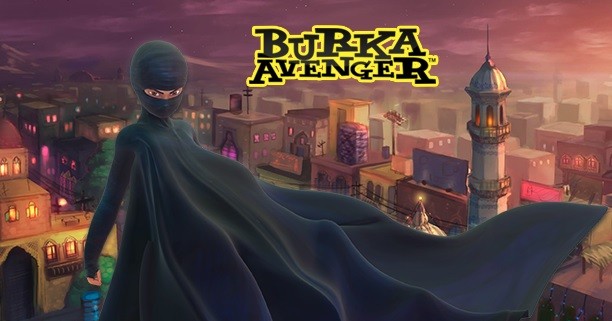 'The Burka Avenger' – a recent addition to the genre – is on a quest to stop evil and is fighting for female education. She is the alter-ego of a teacher named Jiya and fights extremists with books and pens. The Avenger's enemies are Taliban characters who forbid Pakistani girls from gaining access to education. The Burka Avenger was created by one of Pakistan's biggest pop stars, Haroon Rashid, who developed this idea three years ago around the same time that a real life Pakistani student named Malala Yousufzai began speaking out against the Taliban's attempts to shut down schools. Unlike other superheroes Jiya or the Burka Avenger does not kick, hit or punch, instead she uses her books and pens to fight. Her aim is to highlight the importance of girls' education and the notion that the pen is mightier than the sword.
What I find most interesting about the Burka Avenger is that unlike many other hyper-sexualised female superheroes, this character wears a burqa, which is often considered as a tool of oppression for Muslim women. For Muslim women, wearing the burqa is a controversial social practice especially within the Islamophobic climate that dominates many Western countries.
The burqa as a social tool facilitates the expression of Muslim identity but at the same time has been taken as a symbol of oppression. Some argue that employing a burqa for a superhero's costume is pessimistic as it promotes the idea that you are only powerful when you don a symbol of oppression. The hijab (headscarf) has also been perceived by some as a hindrance to modernity and the furtherance of women's rights and development. The argument is that any form of covering for women cannot be interpreted as empowerment; rather it is a symbolic way of hiding women's sexuality.
However, the creator of this show (Haroon) explained that the Avenger is a school teacher and does not wear any veil or head scarf in her routine life. She only wears the burqa when she fights with bad people to hide her identity like so many other superheroes. For example, Spiderman wears a full face mask to maintain his secret identity.In the case of the Burka Avenger, I believe there is a need to consider cultural, social, political as well as religious beliefs. The fact is that she is a Muslim superhero so it would not be appropriate for her to appear sexually. And, it is arguable whether such hypersexual attire can be viewed as more emancipated than the burqa.
Haroon emphasized that it is not about what she looks like; it is about what she is doing. For the Avenger her burqa is a symbol of power, not oppression, as she uses it to fly while fighting with corrupt and brutal people who are limiting access to education. Similarly, for some Muslim women covering the body offers a certain power. Muslim women through wearing the hijab or burqa attain power to take their bodies away from the public gaze, it allows them to decide what should be seen and who should see it. They feel these provide them with freedom to do things they want, and freedom from being viewed as a sexual object. A lot of women who have taken a stance to wear the burqa feel that it gives people an opportunity to see their inner qualities and intellect rather than judging them by their face or body.
The sexual objectification of women has been seen both in the West and in the East for centuries. For example, the portrayal of Western female superheroes as sex objects and the debate over their sexy costumes is not new. Women superheroes are often represented as having unrealistic figures that could rarely (if ever) be accomplished in real life, such as the anatomically-impossible Barbie, with a small waist and large pronounced breast and hips. Although the focus is more on female superheroes, male superheroes are no less portrayed as idealistic figures, but they are less sexualised.
Kristen Harrison and colleagues found that exposure to images of curvaceously thin females has increasingly established this as an ideal figure by both men and women, although only a small number of people ever come close to meeting such criteria of attractiveness. There is also a need to consider the fact that not all women are the same; and that constantly portraying all women as overtly sexual, instead of showing any sort of diversity, is inappropriate. The Burka Avenger has begun to fill this gap in diversity among female superheroes. As I said in the beginning, superheroes have an enormous impact on many of us. Similarly, the Burka Avenger, regardless of her costume, is inspiring young people, particularly young girls, to be someone that can fight for their rights and make a positive difference in society.  The Burka Avenger promotes the idea that a female can be a superhero without showing her body and her burqa may empower those young women who wear the burqa or hijab by choice. I like the fact that this female superhero is based on a realistic approach and that the character deals with real life issues, such as child labour, protecting the environment, discrimination and violence.
About the author
Bazgha Sultana works as a research project administrator for CelebYouth. She is also studying for a degree in Contemporary Education at Brunel University. She is in her third year and doing her dissertation on the learning experiences of student-parents in higher education. She is particularly interested in investigating how gender norms and studying with dependent children mediate the overall learning experiences of student-parents. She has also achieved a first class B.com degree in Accounts and Marketing and won a gold medal as the student with the highest grade, which has been her greatest academic achievement to date. She enjoys encountering different cultures and listening to music and wishes to continue and further her education in order to achieve her aspirations.
Tags: bodies, Burka Avenger, education, Haroon Rashid, Islam, nonviolence, superheroes
Trackback from your site.