Celebrity Teachers? Tough Young Teachers, social class and inspiration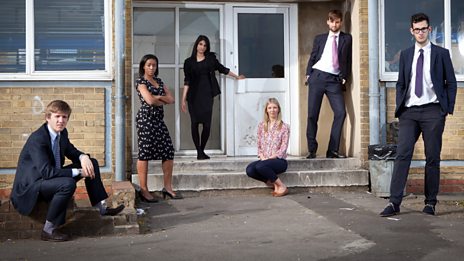 We are now coming to the end of the reality TV series Tough Young Teachers. This show, screened by UK publicly-funded youth channel BBC Three, focuses on the lives of six beginning teachers in 'challenging' London schools. We see these new teachers taking their first lessons. We hear their frustrations and their triumphs. We follow their progress through the ups and downs of the year. This makes good television, as the number of excited tweets each week using #ToughYoungTeachers indicates. However, among the enthusiasm is a strand of critique and concern coordinated by TeacherROAR, for the show focuses not on any first year teachers but on those who enter teaching through a relatively small but rapidly expanding route into teaching: Teach First. Politically popular with both the Labour party and the Conservatives, Teach First brings many fantastic – mostly young – people into teaching. So why the resistance? While Michael Gove may see this as yet more evidence that many teachers are leftie 'enemies of promise' more interested in ideology than in supporting young people, in this post Heather shows why we really should be concerned about Teach First and its celebrity teachers.
What is Teach First?
Teach First is a graduate employment scheme and a registered charity. It recruits 'top graduates' to train on the job as teachers in schools in urban areas of deprivation. They gain qualified teacher status in their first year and then undertake leadership training in the second year of the programme. After two years the scheme ends and, after teaching first, most participants go on to work in other fields, with some remaining in schools in the short term and a minority making a career of it.
I became interested in Teach First just over 9 years ago when I started working with Merryn Hutchings, Uvanney Maylor, Ian Menter and Sarah Smart on two evaluations of Teach First based at the Institute for Policy Studies in Education. These were based on extensive survey, interview and observation data from the first three years of the programme.
Teach First and middle-class privilege
In a paper, Processes of middle-class reproduction in a graduate employment scheme, we argued that  Teach First (TF) acts as a form of social class reproduction through three processes. The first is the accumulation by participants of additional social and cultural capital; the second is the reproduction of middle-class values and stereotypes of the working-class 'other'; and the third is the obscuring of middle-class advantage through discourses of 'natural ability'. Although some years have passed and TF has now expanded its recruitment a little beyond the elite universities, the programmes suggests that little substantial has changed. Jon Rainford blogged his response to the first episode in TeachFirst and the Colonisation of the Classroom in #ToughYoungTeachers:
The reason this [first episode] felt so unsettling to me was that it resonated with discourses surrounding Empire and colonisation of uncivilised peoples that needed converting to the ways of thinking of those colonising them. This is exactly what I saw unfold on the screen. It felt more like a wildlife documentary than a program about teaching as the trainees were talking about the young people as if they weren't equal humans but were some kind of animal that needed training. It was when one trainee was trying to explain negative numbers and using an analogy of scuba diving; something that was likely to be as alien to the child in question as the negative numbers themselves.
Last week, one of the TF participants invited some fellow teachers to his home for a celebratory meal cooked by a chef. Whether this personal chef was a permanent feature of his home life or simply hired for the night, while debated on Twitter, seems a moot point. What this episode showed up, yet again, was the stark contrast between what is normal for TF teachers and what is normal for their students.
Initial Teacher Education in an age of austerity
While the reproduction of middle-class privilege through TF remains intact, the political landscape around teacher education has shifted massively across the past decade. As Debra Kidd pointed out in Tantric Teaching, it's not an accident that this show is focused on TF teachers rather those entering the profession via a year-long postgraduate course or a four year undergraduate route:
If I was in government it might suit me to encourage and support a young, temporary workforce. To put them in areas of teacher shortage, keep them mobile, use their energy before they have families and become fixed and then replace them before they get expensive and build up pension pots. It might suit me to replace the profession with short term rapid response units who won't feel the need to be unionised because they won't be in it for long enough. It would suit me to encourage them to support current government policy in return for a nice little advisory job at the end and to feed these voices to the media as 'authentic' teachers. It would suit me very much.
TF is part of a wider splintering of the teaching force, moving the profession from a more collective to a more individual ethos. In the interviews I did for the evaluations, I remember TF participants referring to themselves as 'fire fighters' and 'saviours'. But, how does this position all of the other teachers in our schools? And what does it say about how TF and its teachers view the young people with whom they work?
In an age of austerity, it is clearly an ideological choice that has led politicians of all stripes to robustly support Teach First, by far the most expensive form of training, while Gove destroys the best value and most effective form of initial teacher education, within universities. As the series has progressed, we've seen the 'tough young teachers' improve, and the inclusion of a second year teacher who is more self-assured, signals this developmental narrative thread that supports the effectiveness of on-the-job training and thus the move of teacher education into schools.
Inspirational teachers?
TF promotes an idea of good pedagogy as leadership, by inspirational individuals. In this way, it is superficially similar to the only other recent reality UK TV show focused on teaching. Jamie's Dream School took young people who had failed within and been failed by mainstream schooling and gave them small class sizes and celebrity teachers. However, there are key differences. As Kim and I wrote in Gender, education and Jamie Oliver's 'dream school', although we hear talk of 'feral kid's', a more complex picture emerges as the story centres on the young people rather than on the teachers. Although the teaching is by 'inspirational' figures, what we see is the failure of inspiration and its replacement by a pedagogy of reciprocity, respect and relevance.
The problem with inspiration as a basis for teaching is that it begs key questions: Who is positioned as a legitimate source of inspiration? And what is their relationship to those who are to be inspired?
We end by juxtaposting a quotation from a 17-year-old Londoner who took part in one of the CelebYouth group interviews with a quotation from the late Stuart Hall, whose work is a major 'inspiration' for our study.
When I went to my work experience, one of them said to me, they go 'who's your, who's your role model?' I said 'Tu Pac', she goes 'Right'. And I explain everything to her, she just couldn't, she said 'I think he shouldn't be your role model, you should have another role model'.
Since talk about poverty and inequality is virtually taboo, politicians address the young as 'aspirational'. But everything depends on how, and into what 'culture' aspirations are channelled.
Tags: Debra Kidd, inspiration, Jamie Oliver, Jon Rainford, Michael Gove, role models, Sarah Smart, Stuart Hall, Teach First, teachers, teaching, Tough Young Teachers, Tupac
Trackback from your site.